Salt-baked Baby Potatoes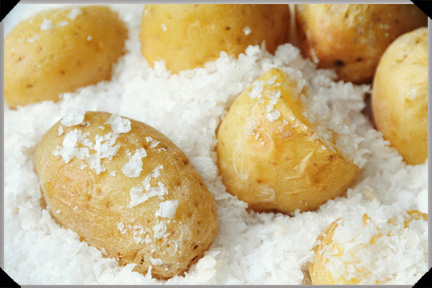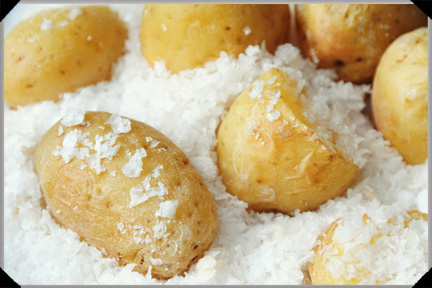 In my recent wanderings around cyberspace, I came across these little beauties – baby spuds covered with salt and baked. It's a method of cooking often associated with fish, but can be applied to many things [1]. The theory is that the salt layer seals in steam, flavour and nutrients and the potatoes (or fish) cook through what is effectively a combination of steaming and roasting, becoming infused with salt flavour but not overly salty. I ate these little guys straight out of the oven and I didn't even feel the need to add any butter [2], that's how good they were. Moister than roasties, but with some of the same flavours. I will certainly be making these again (and reusing the salt I used first time to do so).
You'll need:
around 400g to 500g coarse salt
approx. 500g baby potatoes
You'll also need:
An ovenproof dish – I used an oval earthenware dish, about 28cm x 20cm x 5cm
The Steps:
Preheat your oven to 200C
Scrub the baby potatoes. If you like, you can cut some of them in half, so that you have roughly even-sized pieces. Dry the potatoes well.
Scatter your ovenproof dish with a thin layer of salt. Lay the potatoes on the salt layer, cut side down for any that have been cut in half, and allowing a bit of room between each spud. Switch to a larger dish if your potatoes are squashed up against each other.
Cover the potatoes with enough salt to cover them completely and bake for around 45 minutes to an hour or until the flesh is soft throughout. To test, just poke a small knife through the salt crust and into one of the spuds, it should slip through easily.
Dig the little potatoes out from their salt bed, dust off any excess salt and enjoy.
The Variations:
Heidi from 101 cookbooks [3] discusses a variation where the salt is mixed with some egg white to get more of a crusting effect on the potatoes. She also suggests sticking a few cloves of peeled garlic into the salt, which is worth it for the aroma alone. You could also chop some rosemary or thyme into the salt, which should result in a gentle infusion of those flavours into the spuds.
The Results:
This amount should give you side-dish servings for 2-3