So the word is out. I like tea.
It shouldn't really have come as a surprise, then, that I was contacted by the Campbell's tea people, alerting me to the fact that they had recently won some Great Taste Awards and wondering if, perchance, I would like to give what they boldly title their "Perfect Tea" a whirl.
Alrighty, says I, you're on.
I must admit that I was not familiar with Campbell's, though I'm told that it's been blended here in Ireland since 1797. It's a loose leaf tea, which is very much a niche product in this, the era of the tea bag, and it brings with it a whole different approach to making a cuppa. There is an element of ritual to it. It demands that you slow down, allow the tea the proper time to brew, that you use cups and saucers, maybe even that you have cake. In fact, if you've gone to all that trouble, you should definitely have cake.
So, I've been making some pots of leafy tea for myself over the past week and (when I manage to get the brewing formula right) it tastes like tea should taste. A nice old-fashioned cup of tea. It reminds me of my childhood and of visiting my Grandma as a kid on a Sunday after mass. I'll still have my stash of Lyons or Barry's tea bags within reach, but when I want to take some time over a nice afternoon cup of tea, I'll make a cake like Nigella's rosemary loaf cake, kick back and enjoy the Campbell's.
Print It
Nigella's Rosemary Loaf Cake
I have been meaning to make this cake for about a year. So glad I finally got around to it, because it was just the thing to have with a nice cup of tea. The recipe is more or less as it appears in Nigella's How To Be A Domestic Goddess book. She uses a mixture of self-raising and plain flour, but I've just specified plain flour plus baking powder here. And I've added a pinch of salt. I've learned that from Jenni. Nigella also specifies golden caster sugar, but you could use other brown sugar, white caster sugar or even regular sugar.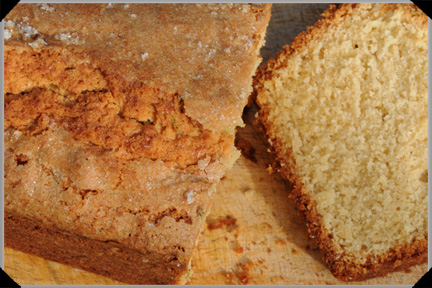 You'll need:
300g plain flour
2 tsp baking powder
pinch of salt
3 large eggs
200g caster sugar
250g unsalted butter, softened
1 tsp vanilla extract
2 tsp chopped rosemary needles
approx 4 tblsp milk
1-2 tblsp rosemary sugar or caster sugar for sprinkling on top
You'll also need:
A loaf tin – 23 x 13 x 7cm – greased and lined
The Steps:
Preheat your oven to 170C, grease your tin and line with greaseproof paper.
Whisk together the flour, baking powder and salt and set aside.
Cream the butter until very soft, then add the sugar and continuing creaming until pale and smooth.
Beat in the eggs, one at a time, folding in a spoonful of the flour mixture after each addition, then add the vanilla.
Fold in the rest of the flour and then add the chopped rosemary.
Thin the batter with milk until you have a soft dropping consistency.
Pour into the tin and sprinkle with the additional rosemary sugar or caster sugar.
Cook for about an hour or until a toothpick inserted into the middle of the cake comes out clean. Mine actually took more like 1 hour 20 minutes to cook.
Leave to cool in the tin, sitting on a wire rack, then remove from the tin and have a slice (or two) with a nice cup of tea. You could also follow Nigella's suggestion and serve it along with some stewed apple.
The Variations:
I might add some lemon zest next time around. I felt like doing that this time, but thought I should get to know the original first.
Next time, I might use Jenni's latest baking suggestion and replace the milk with some softly whipped cream for a more melty cake.
The Results:
One cake, which you may or may not feel like sharing with others.