Nettles With Ginger And Yoghurt
Young, tender nettle leaves are a must for this. The older leaves get tough and chewy.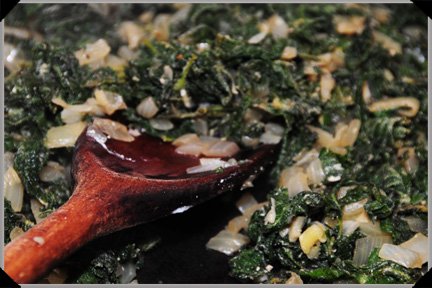 You'll need:
100g young nettle leaves, weighed after removing the stalks
1 large onion, finely chopped
2 cloves garlic, finely chopped
1 x 2cm cube of root ginger, finely chopped
100ml natural yoghurt
olive oil for frying
salt and freshly ground black pepper
You'll also need:
Gloves, for handling the nettles
The Steps:
Remove the leaves from the nettle stalks.
To mitigate the stinging effect, I tried soaking the leaves in water with a couple of tblsp of vinegar for 30 minutes or more, as per zerrin's suggestion [1], which seemed to help, but I still mostly kept the gloves on when handling the leaves.
Rinse the nettle leaves and chop roughly.
Place a frying pan over a medium heat and, when hot, add a glug of olive oil.
Add the garlic and onion to the pan, stir and fry for a minute, then cover and allow to sweat for about 5 minutes or so, until the onions are translucent.
Add the ginger to the pan and stir and fry for about a minute.
Gradually add the nettles to the pan, stirring to combine with the onion mixture and allowing the nettles to wilt down. Should take around 3-5 minutes.
Add the yoghurt to the pan, along with a good pinch of salt and a couple of twists of black pepper, stir to mix then cover and cook until the nettles are cooked through, maybe 5 minutes, though it'll depend on how young and tender they are to begin with.
Serve as a side to meat or rice dishes.
The Variations:
You can, of course, use spinach instead if you don't have, or don't want to deal with nettles. You may want to use relatively more spinach by weight (say 200g at least), because it will wilt down considerably more upon cooking.
The Results:
Side-dish for 3-4 I'd say