Dear Pressure Cooker,
I would like to apologise for what I put you through the other night. To tell you the truth, I am only just about recovering from the experience myself.
Let me start by saying that you have been a faithful kitchen servant for many years. I need only think of the speed at which you have allowed me to cook a myriad pulses: kidney beans for that tex-mex chili and the Nigerian stew with the peanut sauce; black turtle beans for Mexican "charros"; black-eyed beans to be eaten with sweetcorn and a cider vinegar dressing; butter beans later slow-baked with carrots, tomatoes and oregano; soy beans for homemade tofu (though that was only the once); and chickpeas a zillion ways.
You were never, alas, meant to be used for jam-making.
The other night, as I commenced the rhubarb and ginger jam experiment, it seemed like your pot was just about the right size for the amount of jam mixture involved. Oh how wrong I was. For jam, the pot should be deep enough so that the bubbling liquid does not splash beyond the bounds of the pot or run the risk of boiling over. It wasn't your fault but, in this case, you lacked the depth required to succeed and I put you under pressure of a kind very different to the one you're used to…
Once the jam reached its rolling boil, everything within about a one metre radius became a superheated splash zone. It looked like Mt. Rhubarb was erupting on the hob. Approaching in order to test the jam required lightening speed, nerves of steel and and a considerable amount of luck in order to avoid contact with the surprisingly far-reaching arcs of molten sugar.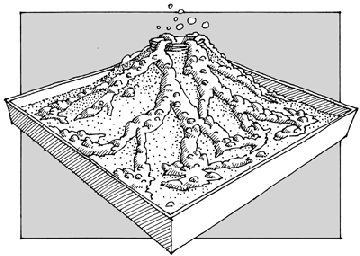 Nor was this the only problem. I had probably added too much liquid to the rhubarb to begin with. The jam was runny and stubbornly refused to set. I found myself trapped in a cycle of boiling, adding lemon juice, and boiling some more, in the vain hope that this would coax it towards a setting point but, in the process, the mixture was becoming lemon jam with a hint of rhubarb and a distinct taste of burnt sugar. As for the ginger, well, its flavour had long since departed. And still the jam boiled on.
Eventually, long after I should have, I accepted the fact that the jam was past its setting point and just bottled the result. The awful discovery that followed, however, was that my jam-making efforts had left you encrusted with a thick black layer of carbonised sugar and I suspected that I might have done some irreparable damage. Hours of soaking with vinegar, followed by alternative therapies, such as oven cleaner and bread soda, were doing little to break down the carbon deposits. I feared the worst.
In the end it was you yourself who provided the solution, doing what it is you do best. With a little bit of water, I pressure cooked the carbon for a few minutes and, lo, it started to yield. A few further applications and the traces of the jam fiasco were all but faded. A future filled with speedily cooked pulses was coming back into view, a lesson was well learned and all was right with the kitchen once again.