Lentils with Chard (and a couple of other things)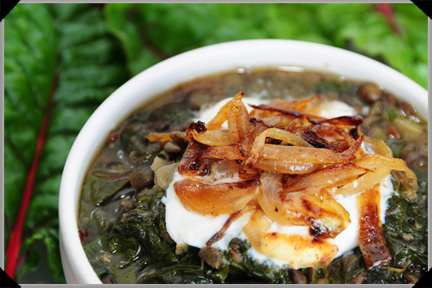 This is adapted from Madhur Jaffrey's recipe for lentils with spinach from my well-thumbed copy of her Eastern Vegetarian [1] book. The recipe calls for green lentils, which is what I usually put in, but this time around, I used the smaller, tastier, puy lentils, substituted chard for spinach and threw in some yoghurt and fried onions for good measure.
You'll need:
400g swiss or rhubarb chard, or spinach
200g puy lentils (or use green or brown lentils)
1 onion, thinly sliced into half-rings
2 cloves garlic, finely chopped
1 tsp ground cumin
1.5 tsp salt or to taste
black pepper to taste
olive oil for frying
To top it off (optional, but nice):
a few dollops of natural yoghurt
another onion, sliced and fried 'til brown and crispy
The Steps:
Wash your chard well and pat dry. Separate the leaves from any thick-ish stalks and slice both the leaves and the stalks into pieces roughly 2cm wide.
Rinse the lentils in a few changes of water.
Place a large saucepan over a medium heat and add a glug of olive oil.
When the oil is hot, add the onion and garlic and stir and fry for about 2 minutes.
Add the lentils and approx. 750ml water. Bring to the boil, then lower the heat, cover and simmer until the lentils start to get tender. For puy lentils this should take 20-25 minutes, for green or brown lentils maybe 35-40 minutes.
Meanwhile, if you want to have some crispy fried onions as a garnish, place a frying pan over a medium-high heat and add some more oil. Slice another onion and add to the pan with a little salt. Stir and fry until the onions start to go brown and even blacken in spots and then remove from the heat. Should take around 15-20 minutes.
Once the lentils have started to get tender, add in the chard stalks and simmer for another 5 minutes.
Now add the cumin, salt and start adding the chard leaves in stages – as one batch of leaves wilts, it'll make room for more.
Allow the mixture to come back to a simmer and let it bubble gently for another 10-15 minutes, stirring occasionally, until the chard is tender and well incorporated.
Add a few grinds of black pepper and stir to mix.
Serve with rice or Indian breads and with some yoghurt and fried onions on top.
The Variations:
You can use kale here instead of chard or spinach, but it needs more cooking time, so add it to the lentils about 10 to 15 minutes earlier in the cooking process.
The Results:
4 big hungry portions or thereabouts