Crash Hot Potatoes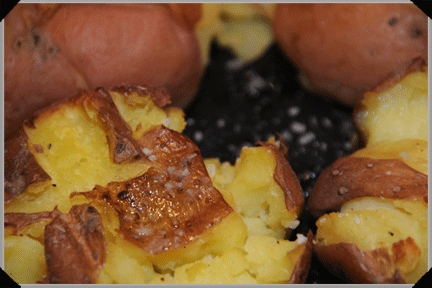 You'll need:
Enough potatoes for whoever you want to feed, helps if they're roughly even-sized. I use roosters for this but use any nice baking potato.
Olive oil
Coarse sea salt and freshly ground black pepper
(Optional) herbs of your choice (parsley, chives, rosemary, …)
The Steps:
Boil the potatoes in salted water in their skins until tender.
Drain and place on an oiled roasting tin.
Flatten the potatoes by mashing down lightly with a potato masher.
Sprinkle liberally with salt, black pepper, herbs of your choice and drizzle with olive oil.
Roast in a very hot oven (220C) for 20-25 minutes until crispy and sizzling.
New Year's Day Impromptu Potato And Lentil Soup
You'll need:
2 cloves garlic
1 medium onion
2 large-ish tomatoes (about 250g)
3 medium potatoes (about 500-600g)
About 280g red lentils, rinsed
1 tsp turmeric
1in stick cinnamon
About 1.2 litres water
1 heaped tsp cumin seeds
About 1.5-2 tsp salt plus black pepper to taste
The Steps:
Drop the tomatoes into some boiling water for about a minute or so, so that the skin comes off easily, then peel and finely chop.
Finely chop the garlic and onion.
Peel the potatoes and cut into small dice.
Heat some oil in a large pot over a medium heat. Add the cinnamon stick and garlic and stir for a few seconds.
Add the onion and stir and fry for a couple of minutes, until the onion starts to soften a little.
Add the tomatoes and fry for another few minutes until the tomatoes start to become paste-like.
Add the potatoes and turmeric and fry for another couple of minutes.
Now add the lentils and the water and stir to combine.
Allow the mixture to come to the boil and skim off any scum that has risen to the top. Then lower the heat, cover and simmer for about 30 minutes or until the potatoes and lentils are both well softened. Stir occasionally and add more water if the mixture seems too thick.
Meanwhile, toast the cumin seeds in a dry, heavy pan over a medium-high heat for 3-4 minutes or until fragrant.
Add the salt and a couple of twists of black pepper to the soup mixture and blend using a processor or hand blender. Check the seasoning and adjust if necessary. Stir in the cumin seeds and dilute the soup to the desired thickness for serving by adding boiling water.
The Results:
This fed about 8 of the assembled New Year's Day visitors. The kids, meanwhile, had cheese toasties and some of us had both!