Ma's Almond Slices
Ma tells me that these originally came from an odlums flour recipe leaflet.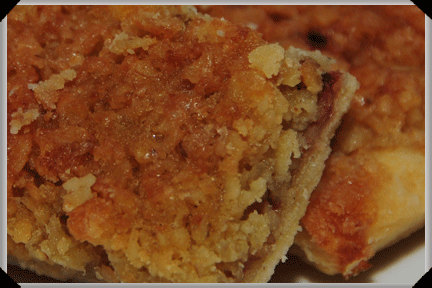 The Crust:
120g plain flour
60g unsalted butter or margarine
Pinch of salt
Cold water
The Filling:
170g porridge oats
120g butter or margarine
110g sugar
1 egg
Couple of drops of almond essence
Couple of tblsp of jam (ideally apricot but use whatever you have)
You'll also need:
A swiss roll tin, approx. 9in x 13in x 0.5in deep
Make The Crust:
If pastry's not your thing, you can buy some ready-to-use – you'll need enough to cover one swiss roll tin.
Otherwise, start by making the shortcrust pastry (or another type of pastry if you have a preferred type of crust). For the basic shortcrust, the main thing to remember is to have the ingredients cold and try not to handle the mixture too much, as the heat from your hands can start to melt the fat, which you don't want.
Sift the flour and salt into a large bowl.
Rub in the butter or margarine until the mixture resembles breadcrumbs.
Add a couple of tblsp of cold water and mix using a knife. The mixture should come together as a single ball of dough. Add more water if needed but do so very gradually.
Place the pastry in a polythene bag and leave to rest in the fridge for 30 minutes.
Now The Filling:
Preheat the oven to 220C.
Melt the butter or margarine gently over a low heat.
Remove from the heat, add the sugar and almond essence and stir to mix.
Beat the egg lightly and stir into the mixture.
Add the oatflakes and mix well.
Roll the pastry out thinly until large enough to cover the base and sides of the tin.
Carefully transfer the pastry to the tin, pressing it gently into the sides and corners.
Warm the jam gently over a low heat, then spread a thin layer on the pastry crust using a pastry brush.
Spread the oat filling over the jam layer.
Bake for about 20-30 minutes until golden.
Cut into slices or squares while still warm, then remove from the tin and cool on a wire rack.